Around the year 1332 the Hungarian Kingdom which invaded and occupied Transylvania, decided, because of the attacks of the tartars which after the mongol invasion from 1241, remained in the north of the Black Sea to made a region of protection of Transylvania, where to fight with the tartars, in Moldova, to the east of the Carpathians. Here the region were habituated by the Romanians as well and therefore , a Romanian from Transylvania, Dragos, a nobleman too, were sended by the Hungarians to organise this defensive region. Going one day to hunt buffaloes, his female dog, named Molda, were drown in the water of a river. In his memory that river were called Moldova and from it were named the country too, Moldova. Here the medieval state were founded in 1365 by another Romanian from Maramures, Bogdan.
Moldova starting with 1372 starting to be rulled by the Musatin family called like this after the name of Lady Musata. This territory have the highest development in the Xv-een century under the rule of Stefan cel Mare, a real defender of Europe against the Ottoman Empire. To understand easier what I am talking here, consider that, today a single man and his army, will keep ISIS away from Europe. In 47 years on the throne he fight in 44 battles and lost only 2. After each victory he built a church or a monastery. Many of them are still standing today, and others were built by his nobles or son, Petru Rares. Are known today as "the painted monasteries" and are part of UNESCO Heritage for their beautifull exterior and interior frescoes which still resist after more then 600 years.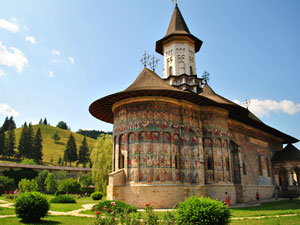 The symbols of those paintings are original and unique in the world. Also the wine and food of this region are known everywhere in Romania for their quality and the landscape is really beautifull. Also one of the oldest salt mines from Romania is still preserved here like in 1883 which makes from Cacica a visited objective from Moldova. The mine is still working and produce salt.
The region is a mixture between the occidental influence and the oriental one and in 1602 here were built the Dragomirna Monastery where we can observe baroque influences in architecture , like a beginning of what will be this style in Romanian Moldova.
Here we can taste one of the best wines of Romania, Cotnari and this is the region which in the XIX century produced one of the most important, poets, novelists, painters and politicians of Romania.