Jeep Tour in Transylvania
Jeep Tours in Romania are a different way to discover the best of the Romanian nature, mountains, lakes, wild forest and beautiful countryside. Driving special equipped 4WD cars we'll have access to off-road paths to places which are less known, a secret part of Romania. We'll see amazing scenery, we'll see old ways of life, local customs well preserved, etc. This jeep tour in Transylvania allows you to experience the essential landscapes of Romania, while driving on remote wilderness and through mountain traditional areas as well as visiting old villages scattered between green hills, valleys or mountain areas. This tour has a comprehensive route starting from shadowed birch and oak forests and sky mirroring reservoirs up to alpine pastures and glacial lakes at 2200m altitude. The cultural and architectural heritage is sprinkled along the route. Some historic landmarks of Transylvania are included in the route as Saxon Fortified churches, Hunyad Castle, old medieval towns as Sibiu and Sighisoara, Alba Iulia fortress. Along the route you'll have the chance to taste local cuisine and drinks. We are using special equipped 4WD cars which allow us to drive on these off-road paths in a safe and comfortable way. Each vehicle allows 3-4 passengers. There are two ways to organize this jeep tours. One in which you can try your own driving skills and some or each tourist can alternate driving the car. Or you can just enjoy the ride sitting as a passenger and our experienced off-road drivers will do the work.
Highlights

Carpathians Mountrains, Saxon heritages, Transfagarasan Road, Balea Lake, Vidraru Dam, Latorita Mountains, Apuseni Mountains, Hunyad castle, Alba Iulia, Sibiu, Sighisoara, Viscri
Prices
The price include
The price not include
The price include
8 nights accommodation; Meal plan (8 breakfasts, 4 lunches, 2 dinners); transport with 4WD vehicles; Private tour Guide; Entrance tickets at the museums mentioned in the program; Tour of the village in horse driven carriage in Sibiu area, Visits to the local craftsmen, tasting of plum brandy. Local taxes.
The price not include
Other meals not mentioned; Other services; Personal expenses; Photo/video tax (required in some museums.
The price include
8 nights accommodation; Meal plan (8 breakfasts, 4 lunches, 2 dinners); transport with 4WD vehicles; Private tour Guide; Entrance tickets at the museums mentioned in the program; Tour of the village in horse driven carriage in Sibiu area, Visits to the local craftsmen, tasting of plum brandy. Local taxes.
The price not include
Other meals not mentioned; Other services; Personal expenses; Photo/video tax (required in some museums.
Day 1. Arrival in Romania
Our jeep tour will start from Sibiu, next morning. You can use as arriving airports: Sibiu (SBZ), Bucharest (OTP), Cluj-Napoca (CLJ), Targu Mures (TGM).
You'll meet our representative and we'll transfer you to Sibiu.
Overnight in Sibiu in a 4 stars hotel located in the Old Town. Ex: Ramada, Forum Continental, Levoslav, etc.

Day 2. Saxon villages area - Sighisoara
Breakfast. In the morning we'll have a short guided walking tour of Sibiu, the oldest and the biggest medieval town of Transylvania. You'll find more about the history of Transylvania and about the most important sights from Sibiu's Old Town.
Aprox 11.00 AM we'll check out the hotel. After a short briefing we sign in for the jeeps and we'll start driving in the hilly area next to Sibiu heading to Sighisoara. We eat a box lunch on a shady place on the way. We'll have an off-road drive in the pastoral area of the Saxon villages, we observe the picturesque settlements, the sheep and cow folds, the majestic Fagaras Mountains ridge, the great views over the Transylvanian charming old villages, the cow self-returning to stables in the evening, the Gipsy colourful costumes, carriages and behaviour. We'll get to Sighisoara in the evening.
Taste the local drinks: In the evening we'll have a plum/pear brandy and wine tasting in a small family cellar.
Overnight at Sighisoara Hotel*** or similar, located in the old medieval town.
Meals included: breakfast, box lunch
Day 3. Viscri village - Transfagarasan Road – Balea Lake – Vidraru Dam
Breakfast. We start with a morning walking city tour of Sighisoara (UNESCO). It is the most charming medieval towns from Romania. Clock Tower, Church on the Hill, We continue off-road in the hilly area next to Sighisoara. We can't miss on our off-road trip of Transylvania the famous village of Viscri, one of the most picturesque places which preserve the best the old architecture and way of life. Enjoy a coffee break in the village, spent some time for a short walk and visiting Viscri fortified church (UNESCO). It is a great sample of this type of complex combining religious and defensive structures, characteristic for Transylvania and known as Saxon fortified churches.
We'll continue closer closer and closer until we climb it along the Transfagarasan road. It is one of the most spectacular mountain roads from Europe. We stop for a short walk at Balea glacial lake situated at 2000 m altitude. Next, after crossing the tunnel to the South slopes we descend on the serpent road all the way to Vidraru dam. We take a 1 hour boat trip from the hotel deck accompanied by a cold beer bottle just before dinner.
Accommodation at Posada Hotel***, next to Vidraru lake
Meals included: breakfast
Day 4. Wallachian villages and off-road in Fagaras and Latorita Mountains
Breakfast. We will start a new off-road adventure in the Fagaras Southern shoulder ridges all the way to Olt River. We cross traditional villages looking to understand the difference between Wallachia and Transylvania, we stop for coffee and chat with locals. After a short drive on asphalt along the Olt Canyon we get to several artificial lakes along Lotru river and we take a picnic lunch in a shady place next to the river. In the afternoon we'll drive off-road in the rough Latoritei Mountains, climbing steep to the alpine pastures. We stay on top of Latorita Mountains until the sunset, in a wild and beautiful area before to rush down to the bottom of the valley to find our comfortable hotel.
Overnight at Hotel Alpin***.
Meals included: breakfast, box lunch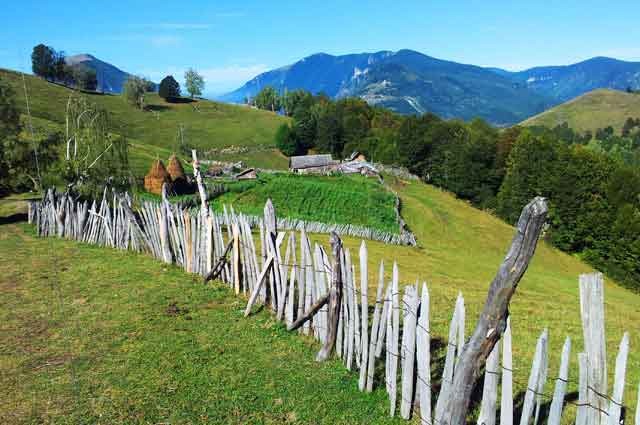 Day 5. Wild forest off-road tour, barbeque
Breakfast. We'll start driving through the deep gorge carved by the strong stream of Jiet river all the way to Petrosani. Here we buy fresh meat and supplies for the lunch planned barbeque. We continue with challenging 4WD tour in Sureanu Mountains, crossing muddy meadows in the old oak forest of the Sureanu National Park. We get to the perfect lunch spot for a relaxing meal and afternoon nap. We continue descending to the Dacian's land. In the evening we visit the Huniad Castle, the best preserved gothic architecture fortress in Romania.
Overnight in Hunedoara at Best Hotel*** or similar.
Meals included: breakfast, barbeque lunch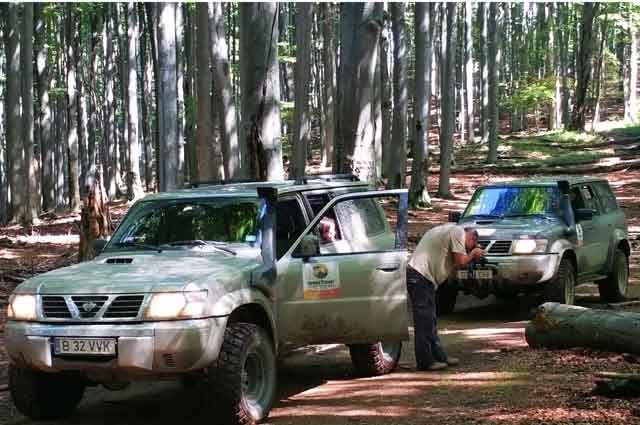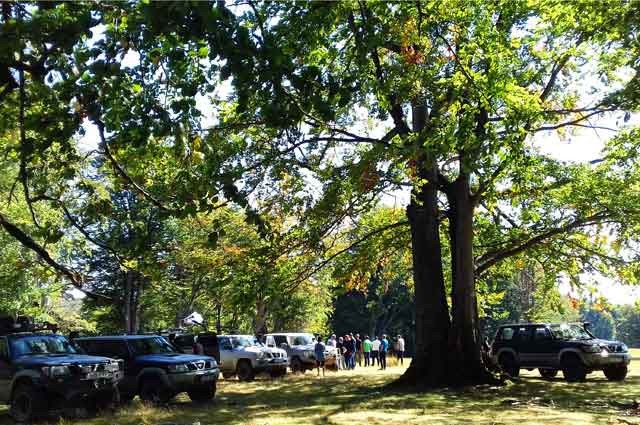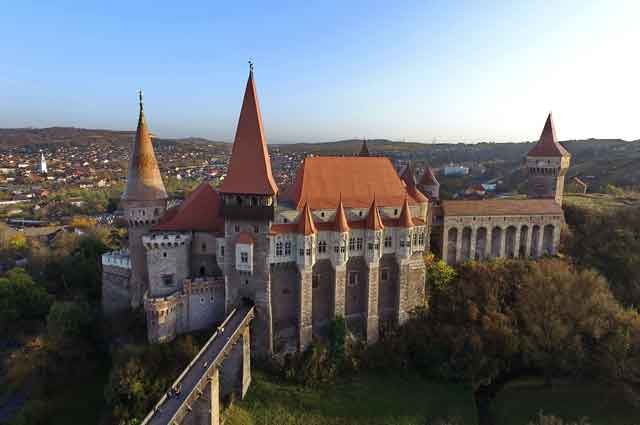 Day 6. Apuseni mountains. Traditional Romanian villages and summer settlements, local crafts

Breakfast. Next we'll drive in the middle of the Apuseni Mountains. The high plateau of Scarisoara is animated by the locals living in traditional "coliba", summer settlements. We have the chance to see the traditional way of life based on the forest and alpine pastures exploitation. We visit some local craftsman and enjoy the off-road in the dramatic limestone carved canyons of Apuseni. We get to our pension for the evening folk show of the local dance assembly. Tasty dinner with local products.
Overnight at Poiana Verde guesthouse in Albac village.
Meals included: breakfast, dinner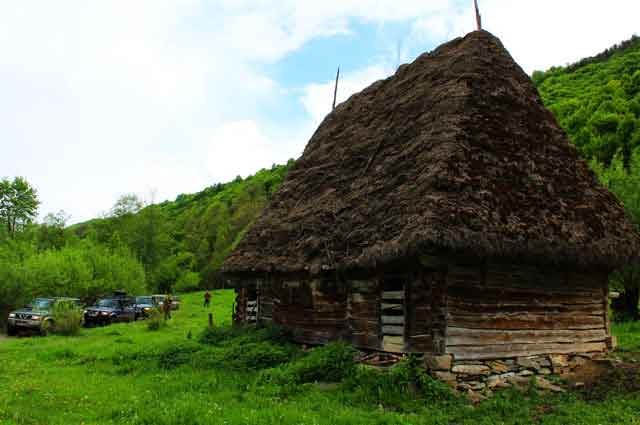 Day 7. Off-road in Trascau Mountains, Germana lake, traditional agriculture areas, Coltesti

Breakfast. We cross the Trascau Mountains off-road on carriage trails used to carry hay. We observe the traditional ancient agriculture technologies drove by the nature pace. We see all over the specific hay roof on top of the old houses. The coloured Geamana lake tales us the cooper mine story in a place where paradisiac nature fights the hell of pollution. The limestone canyons complete the fabulous landscapes of our route.
We'll end the day in Coltesti. Accommodation at Conacul Secuiesc Hotel****. It is a great chance to try the restaurant specialities inspired by the Hungarian - Transylvanian cuisine.
Meals included: breakfast, box lunch.
Day 8. Visit to Alba Iulia, off-road in Cindrel Mountains, Sibiel

We'll start the day with a short walk to the ruins of Coltesti fortress. We continue through the Valisoara valley than on the main road to Alba Iulia, the city of Union. We visit the fortress and the two cathedrals of the city. In the afternoon we continue off-road in Cindrel Mountains. We'll end our jeep tour in Transylvania in the evening, staying in a very traditional area characteristric for Transylvanian rural life – Marginimea Sibiului. Just before dinner we will enjoy a horse driven wagon tour in the village and its surroundings. Then we'll serve a delicious homemade farewell dinner served in a local guest house.
Overnight in a local guesthouse
Meals included: breakfast, dinner
Day 9. End of our jeep tour in Transylvania
Breakfast. According with your departure flight times we will transfer you at the airport.
Customize your jeep tour in Romania
There are several choices to organize a jeep tour in Romania as presented above.
First choice is when all or some of the tourists want to experience driving by their own and to test their skills. Then we will have one car driven by our tour guide which goes ahead followed by up to 6 cars with a maximum of 4 tourists per vehicle.
Second choice is to just enjoy the ride and let our experienced drivers to do the work. Our visitors will just enjoy the beauty of the countryside, mountains, wild forest and amazing landscapes.
Third choice is for the ones which want to drive their own cars. We will have just a tour guide and a vehicle to show you the way. Transportation, fuel, parking will be in your charge.
Above we just wanted to present a sample of itinerary. According with your wishes or special requirements we can change it we can reduce or enlarge the period. You may choose from a 2-3 days to a 10 days or more.
We can change the type and level of accommodation as much is possible for the area where we have to stay overnight.
Therefore it is very important to contact us, to tell us more about your traveling plans, how many people are in your group and which type of the driving experience you choose. Then we will send you our customized tour offer.
Payment and Cancellations Policy for Transylvania Jeep Tour

Payments
To secure your booking a deposit of 100 euro/person is required.
The final payment has to be made with minimum 15 days prior the tour start.
The payments can be made online by credit card or by banking transfer
In certain circumstances can be made cash or card on arrival
Cancellations
Special conditions. If an emergency situation occurs (pandemic, disasters, revolution, war, etc) and the Romanian authorities or the authorities from the traveler's country impose restrictions to travel, to enter or leave the country, the cancellation can be made anytime without any penalty.
Standard conditions. If none of the above mentioned situations occur the cancellation policy is:
No penalty will apply if the cancellation is made with minimum 15 days prior the tour. Any deposit paid will be refunded in maximum 10 days.
20 % penalty fee apply if the cancellation is made with 5-14 days prior the our departure.
50% penalty fee apply if the cancellation is made with less than 5 days prior the tour start or in case of NO SHOW.
Why to book this tour?
To join a jeep tour in Transylvania is a great experience in which you'll discover many of the hidden or less known aspects of our country. You'll travel far from crowds and touristy places, in the nature and countryside areas. You'll admire the great views over Carpathians mountains, wonderful valleys, lakes and rivers and you'll enjoy the peace of those places.
There are many areas and routes which can be visited only in an off-road tour using special equipped vehicles. Along the tour you'll find more about Romania and Romanians, about our traditions, customs and old way of life, still preserved in many places. Are many things which are unique in Europe and can be seen only here.
Tasting our delicious meals and local drinks, visiting local craftsmen and chat with local people are experiences part of our off-road tour of Transylvania.
Don't hesitate and join us for an amazing experience!