Romania Rural Tour - Crafts and Traditions
Romania is one of the very few regions in Europe where rural life and villages are still authentic. Houses preserve their old architecture, many of the traditions and holidays are hols as in the past and we still have craftsmen making their products as hundreds of years ago. There are places like this and we hope that responsible tourism will be the way to preserve them. People which are visiting, staying in local guesthouses, eating local food produce in the area, buying authentic objects and art , all contribute to local villages and people sustainability. Transylvania is a multicultural region where we can see Romanian, Hungarian, German influences. The villages are different, customs have a local community character and cuisine and recipes may vary from an area to another. Local food and drinks are part of your experience, mostly produce with local natural ingredients. Join us for a memorable tour of Transylvania.
Highlights

German / Saxon villages in Transylvania, fortified churches, rural life, traditions in Maramures, wooden churches and wooden gates from Maramures, mountain villages in Transylvania, good local foos and drinks, visit craftsmen.
Prices
| Details | Price |
| --- | --- |
| Euro / person - for groups of 2 travellers | 1370 |
| Euro / person - for groups of 4 travellers | 1080 |
| Euro / person - for groups of 6 travellers | 810 |
| Euro / person for single room supplement | 100 |
| for solo travelers or different group sizes than the ones above, prices are on request | 0 |
Book / Request tour
The price include
The price not include
The price include
7 nights accommodation in dbl rooms; Half Board 7 breakfasts and 7 dinners; transport with car or minibus; Private tour Guide - English language; Entrance tickets ; Tour of the village in horse driven wagon in Sibiu area, Jam tasting, Visits to the local craftsmen, Local taxes.
The price not include
Airfare; Other meals not mentioned; Other services;
The price include
7 nights accommodation in dbl rooms; Half Board 7 breakfasts and 7 dinners; transport with car or minibus; Private tour Guide - English language; Entrance tickets ; Tour of the village in horse driven wagon in Sibiu area, Jam tasting, Visits to the local craftsmen, Local taxes.
The price not include
Airfare; Other meals not mentioned; Other services;
Romania Rural Tour route map:
Starting point: Bucharest
Ending Point: Bucharest
Total distance: approx. 1650 km (1025 miles)
Total driving time: approx. 24 hrs.
Average daily driving time: approx. 3 hrs
Accommodation: Viscri area (2 nights), Botiza – Maramures (3 nights), Sibiel village (2 nights)
Map Legend: H (Bucharest), B (Brasov), C (Viscri), D (Corund), E (Sapanta - Maramures), F (Botiza - Maramures), G (Sibiel)
Day 1. BUCHAREST – TRANSYLVANIA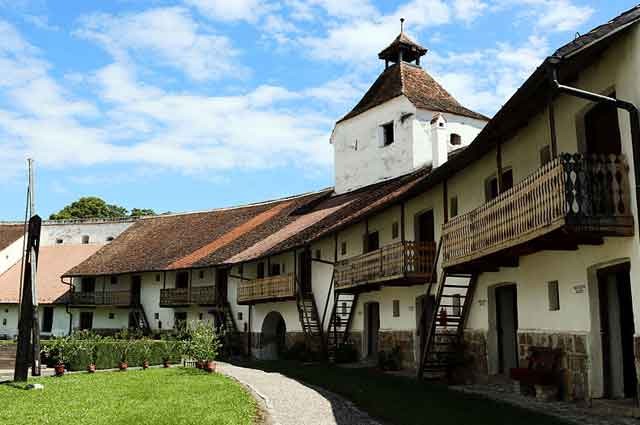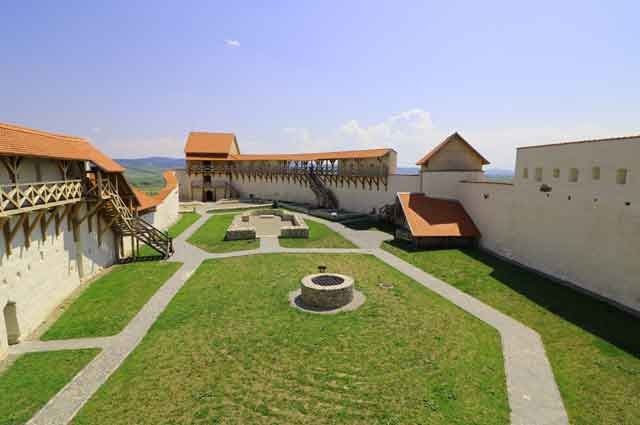 Meet our tour guide, in the morning at your hotel in Bucharest or at the airport for morning flights. Note: on request we can include extra nights and travel services in Bucharest. See our Bucharest optional services.
We'll start today our experience in Transylvania rural life and crafts. We'll cross the Carpathians mountains to the South Eastern corner of Transylvania – Brasov region, an area with a very old history, with towns, villages and fortresses dating since 13th century. We'll visit Prejmer fortified church (UNESCO) a great sample of the mix between a religious and defensive structures. Fortified churches are characteristic for Transylvania and can be seen in almost every village. It was a concept of the German settlers and they had the role to protect the local communities.
Another sample of a fortified church is Harman, where we'll have our next stop. Both villages preserve the old architecture and we can see small ethnographic collections in the churches museum. We'll find more about the life of villagers in Middle Age and after.
Next stop will be at Feldioara fortress (Marienburg). The first defensive system was built in early 13th and it was the headquarter of the famous Teutonic Knights. Our tour guide will give you all the information about the history of the knights, their role and activity in Transylvania. In 14-16th century Feldioara became an important peasant fortress.
One of the best rural areas of Transylvania which preserve well the authentic architecture and influence of the medieval times and German / Saxon heritage is the region between Brasov – Sighisoara – Sibiu.
In this area we'll stay in a village guesthouse located in an old authentic house. Depending of the availability at the time of booking we'll choose a place in one of these villages (Veseud, Viscri,Crit, etc).
Dinner and accommodation in a village guesthouse. Taste the delicious Transylvanian meals and drinks.
Optionals: If you want, we can have a short walking tour in Brasov Old Town or we can visit Bran castle
Optional services in Bucharest before / after the tour
Accommodation in Bucharest in a 4 stars hotel, central located – from 70 euros/night/room
Airport transfers – from 10 euros/person
Bucharest – half day guided tour – from 40 euros/person
Bucharest – full day tour – from 50euros/person
Please contact us for supplementary details!
Day 2. EXPLORE TRANSYLVANIA – Sighisoara area
Transylvania is a multicultural place where along the time Romanians, Hungarians, Germans and others shared the time, places and threats. There are three main religions as Orthodox, Lutherans, Catholics. Our tour in Transylvania will reveal all these aspects and the beauty of this mix of cultures.
Today we'll explore the area of Sighisoara, the old medieval town and the charming villages of Tarnava Valley.
Sighisoara medieval town, dating since 13th the town preserve the best the authentic architecture of the houses and streets. It is mostly untouched by the modern changes. The old town is included in the UNESCO World Heritages List. Enjoy a walking tour as a walk through the past times. The impressive Clock tower is the city landmark. We'll also see the Church on the Hill, Tinsmiths Tower, Tailors' Tower, parts of the fortified wall and the House of Vlad Dracul, the place where Vlad Dracula was born.
Sighisoara is surrounded by charming old villages scattered among the green hills and beautiful valleys. We'll visit couple of them.
Viscri village. It is one of the oldest, charming and known village of Transylvania. Local people managed to preserve the houses, way of living and customs. The life continue here almost not changed for centuries. You can see local craftsmen still making their products in the old way and we'll visit Viscri fortified church and the small museum dedicated to the local life and traditions.
Stop for a jam tasting in Saschiz village. Visit a small producer in the area.
Biertan village and fortified church. Biertan was an important trade center in 15-17 century, famous for farming land and vineyards. The impressive fortified church (UNESCO) was the headquarter of the Lutheran bishops for 300 years.
Other beautiful places to see and visit in the area are the villages Mosna, Axente Sever, Alma Vii, a ceramic workshop or a ceramic shingles factory.
We'll adjust your visiting plan according with your wishes. There are people which like to take it slowly and enjoy longer every stop or people which may like to have a busy day and see as many sights possible.
In the late afternoon we'll return to our accommodation place. Dinner and accommodation in a village guesthouse.
Day 3. CORUND – TARGU MURES - MARAMURES
We'll leave the south of Transylvania heading north. First stop will be at Corund village with a large Hungarian community and one of the most famous ceramic centres in Romania. Visit local ceramic workshops.
Next we'll have a bout 4hrs of driving until we'll arrive in Maramures, the land of wooden churches, wooden gated and traditions.
We'll stay overnight in Botiza village, a great place, located further from the main roads, at the end of the Botiza valley. Our hosts will welcome us with a tasty home-made dinner. Don't hesitate to try the plum brandy or fruits liqueurs.
Dinner and accommodation in a local guesthouse.
Day 4. EXPLORE MARAMURES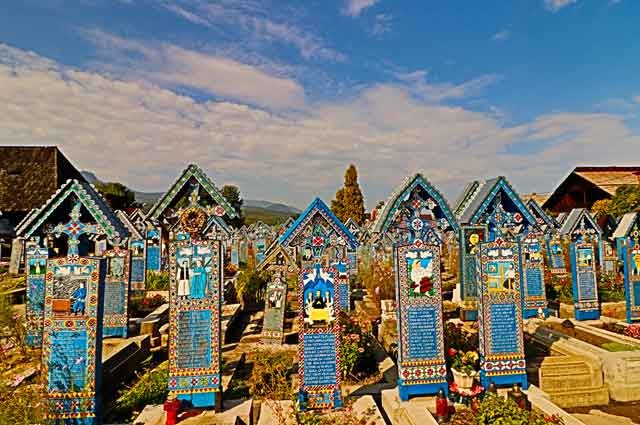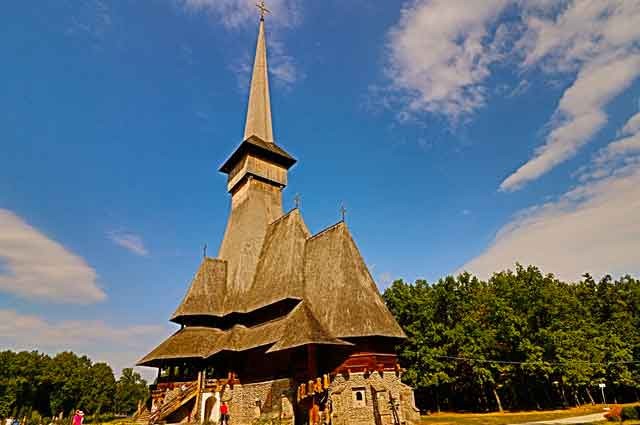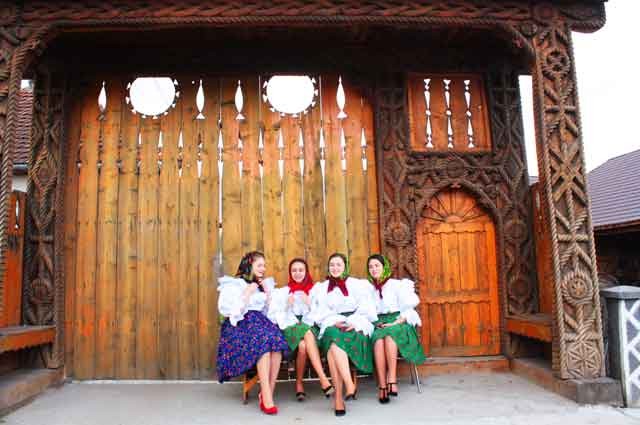 The land of Maramures is known as a place where the old traditions and customs are very well preserved. Here is common to see people dressed in their folk costumes, working the fields or going to Saturday market. Sundays or in major religious holidays people get dressed in their best traditional clothes and are going to the church. Maramures is famous for its wooden churches, some of them being more than 300 years old and for the wooden carved gates. Working in wood is a regional tradition. Our tour in Maramures will give you the time to find more about its history, culture and crafts.
In the morning we'll see Barsana monastery, a symbol of the religious life in the area and a sample of wooden buildings architecture. Next we'll see a wooden crafsmen workshop and an artisanal crafts centre in Sarbi village, using the power of water.
Another stop will be at Desesti Wooden church (UNESCO) one of the best preserved church and interior frescoes. It is a great sample of the construction and decoration of the Maramuresean old wooden churches. We'll continue to Sapanta Merry Cemetery (UNESCO), famous for its colourful tombstones and funny inscriptions. In the afternoon return to Botiza village. Dinner and accommodation in a local guesthouse.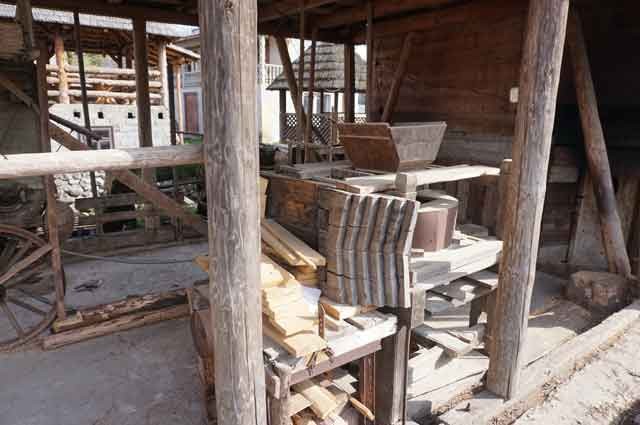 Day 5. MARAMURES
We will continue to discover the best places in Maramures. In the morning we'll visit Bogdan Voda wooden church, built in 1718. It preserves frescoes in naïve style painted directly on the wooden walls by the local artists at the end of 18th century.
In the neighbouring village – Dragomiresti we'll stop at Maramuresean Women Museum. It is a small but very interesting museum which present the way how a village house was built, organized and the daily activities which regular villagers had to do in the past.
Along our trip we'll see the beautiful carved wooden gates from Maramures, a landmark of the area. They are higly carved with religious and spiritual symbols and used to represent the rank of the family in the society. These type of wooden gates are specific for Maramures area. Your tour guide will explain you the significance of the carved motifs.
We'll spend the afternoon back in Botiza village. Walking on the village, finding natural spring waters or having a quick visit at Botiza monastery and enjoy the nice countryside views. Depending of the season we can go to visit a sheep yard or to see a local weaver. Dinner and accommodation in a local guesthouse.
Day 6. MARAMURES – SIBIEL
The last stop we do in Maramures will be at Surdesti Church (UNESCO). Due its total height of 72 m it is considered the highest wooden church in Europe.
Our journey will drive us to the southern Carpathians are where we'll discover the mountain villages from Transylvania, where the main activity is growing animals. It is known for the good cheese and meet products too.
Icon painted museum from Sibiel is a very interested place where we can see icons painted on glass an old art which was very popular in Transylvania. Women from the villages use to paint their own icons for religious purposes and to decorate their own houses. Find more about his technique which is still in use.
Enjoy a tasty dinner with home made food and try their drinks.
Dinner and accommodation in a local guesthouse from Sibiel village.
Optional: we can have a short detour to see Alba Iulia, a very old town with a huge influence in Romanian history. Highlights: Roman ruins, Orthodox and Catholic cathedrals, 17th century fortifications in Vauban style, Union Hall and Museum.
Day 7. MOUNTAIN VILLAGES IN TRANSYLVANIA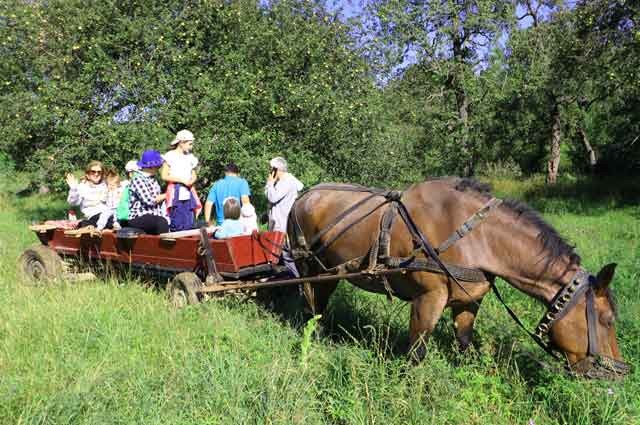 In a slowly and comfortable way we'll explore the architecture and life in the Transylvanian mountain villages. It is a day to relax and enjoy the area. We'll start with Sibiel, the village which is a pioneer in developing rural and responsible tourism in Romania.
The best way to do it is having a horse driven wagon trip in the village and its surroundings. We'll see the house's architecture, the way how the village is organized, the farming land and woods around it. We will tell you all the information about people's life and activities.
If possible you can be part of the family activity on the farming land or in the household. We'll visit the household and see how it is organized and how a normal family live. This is not a tourist place so you'll see things as they are.
We can have a drive in the neighbouring villages as Orlat, Jina, etc. From some areas we can have excellent scenery over the mountains on one side, hills and valleys on the other side. The program is flexible and we'll arrange it as you wish.
Dinner and overnight in a local village guesthouse.
Optional: visit the old town of Sibiu, one of the oldest and largest Transylvanian medieval cities, dating since the end of 12th century. Main sights are: Big Square, Little Suare, Liar's Bridge, Orthodox Cathedral, Lutheran Cathedral, Catholic Cathedral, Council Tower, Stairs' Tower, etc.
Day 8. SIBIEL – BUCHAREST
Drive on the way back to Bucharest where we'll arrive around 14.00 hrs. Drop off at the airport or to a hotel in Bucharest. See our optional services in Bucharest if you need accommodation, transfers, etc.
Optional: stop and visit at Peles castle, former royal summer residence or at Cozia monastery, 13th century.
END OF TRANSYLVANIA TOUR SERVICES
Customize your private tour in Transylvania
This is a private guided tour therefore we can always create a customized offer for you. Are you looking for a certain area to visit or to stay? Do you want to include certain services? Do you have a special diet? Do you want to spend more or less time in Romania? Would you like to use a different airport for your arrival / departure? Just tell us and we will design the best tailor-made tour for you.
Payment and Cancellations Policy for Rural life tour in Transylvania

Payments
To secure your booking a deposit of 100 euro/person is required.
The final payment has to be made with minimum 15 days prior the tour start.
The payments can be made online by credit card or by banking transfer
In certain circumstances can be made cash or card on arrival
Cancellations
Special conditions. If an emergency situation occurs (pandemic, disasters, revolution, war, etc) and the Romanian authorities or the authorities from the traveler's country impose restrictions to travel, to enter or leave the country, the cancellation can be made anytime without any penalty.
Standard conditions. If none of the above mentioned situations occur the cancellation policy is:
No penalty will apply if the cancellation is made with minimum 15 days prior the tour. Any deposit paid will be refunded in maximum 10 days.
20 % penalty fee apply if the cancellation is made with 5-14 days prior the our departure.
50% penalty fee apply if the cancellation is made with less than 5 days prior the tour start or in case of NO SHOW.
Why to book this tour?
If you are looking forward to experience rural life, traditions and crafts then this trip is a great choice. Come to discover this multicultural region of Europe where old village architecture, traditions and way of life are well preserved. Our rural life tour in Romania will guide you through the best areas, through wonderful villages. We'll meet local craftsmen and find more about local traditions and crafts. You'll have time to enjoy spending time in the villages and be part of the traditional life. Our private tour guide will tell you about Romanian history, culture, religion and characteristics of the local people. Being a private guided tour we are fully flexible in arranging daily itinerary. If you'll be interested to visit some bigger towns or popular castles you may choose one of the optional tours and activities. The experience will not be complete without tasting our food and drinks. The offer include a half board meal plan and we'll make sure that you'll taste delicious meals. You have to try our plum brandy, good winem craft beers or fruit liqueurs. Many ingredients used are locally made.
Transylvania is a great travel destination for responsible tourism. Staying in the villages, eating local food and buying authentic crafts is a way to help the local communities to preserve their way of living and traditions.