Wallachia, Bucovina, Maramures, Transylvania,
The tour of the best Romanian tourist sights, many of them being included in the UNESCO World Heritages List. It is a great journey through Romanian history, traditions, cuisine and landscapes. Visit old medieval cities, castles and fortresses, wooden churches, the famous painted monasteries. We'll enjoy amazing scenery of the Carpathian mountains or of the Transylvanian green rolling hills. We'll pass Romania's countryside, small and charming villages and we'll find more about local traditions and way of living. We'll visit craftsmen workshops and we'll be able to taste home-made food, local cuisine and delicious drinks. This is a private guided tour in Romania so you'll travel all the way assisted by your private tour guide. He will give you all the information you about Romania and visited sights, he will be happy to answer your questions and to give you the best advises. You just need to enjoy your vacation in Romania and have a great experience! Along this 7 days private tour in Romania we'll visit the most popular tourist regions as: Transylvania, Maramures and Bucovina. It is one of the most comprehensive tours of Romania.
Highlights

Old towns as Brasov, Sighisoara, Sibiu; Medieval castles as Bran and Hunyad; Prejmer fortified church; Painted monasteries from Bucovina; wooden churches from Maramures; Merry cemetery Sapanta; intersting towns and cities as: Alba Iulia, Cluj-Napoca, Bucharest; charming villages and countryside; mountain scenery; local cuisine; visiting craftsmen workshops
Prices
| Details | Price |
| --- | --- |
| Euro / person - for groups of 2 travellers | 1225 |
| Euro / person - for groups of 4 travellers | 855 |
| Euro / person - for groups of 6 travellers | 765 |
| Euro / person for single room supplement | 135 |
| for solo travelers or different group sizes than the ones above, prices are on request | 0 |
Book / Request tour
The price include
The price not include
The price include
6 nights accommodation in dbl / twin rooms; Meals as specified (daily breakfast, two dinners); transport with car or minibus; Private tour Guide - English language; Entrance tickets ; Tour of the village in horse driven carriage in Sibiu area, Visits to the local craftsmen, Local taxes.
The price not include
Photo/video tax (required in some museums); Other meals not mentioned; Other services; Tips are not included, are not compulsory but are appreciated.
The price include
6 nights accommodation in dbl / twin rooms; Meals as specified (daily breakfast, two dinners); transport with car or minibus; Private tour Guide - English language; Entrance tickets ; Tour of the village in horse driven carriage in Sibiu area, Visits to the local craftsmen, Local taxes.
The price not include
Photo/video tax (required in some museums); Other meals not mentioned; Other services; Tips are not included, are not compulsory but are appreciated.
Tour itinerary map
Starting point: Bucharest
Ending Point: Bucharest
Total distance: approx. 2000 km (1250 miles)
Total driving time: approx. 29hrs.
Average daily driving time: approx. 4 hrs
Overnights in: Sibiel, Cluj – Napoca, Botiza (Maramures), Bucovina, Sighisoara, Brasov
Map Legend: J (Bucharest), B (Sibiu), C (Corvin's Castle), D (Cluj Napoca), E (Maramures), F (Bucovina painted monasteries), G (Sighisoara), H (Brasov), I (Bran castle)
Day 1. BUCHAREST – SIBIU

Note: on request we can include extra nights and travel services in Bucharest.
Meet our tour guide, in the morning at your hotel in Bucharest.
Start our tour with a panoramic tour of Bucharest. Highlights: Parliament Palace, Revolution Square, Athenaeum, Royal Palace, Triumph Arch, Victoriei Avenue, etc
Continue on the way to Transylvania, crossing the Carpathians mountains, through the beautiful Olt River Valley. Short stop at Cozia monastery, dating since 14th century. As soon as we'll pass the mountains the scenery is revealing the green hills and valleys of Transylvania – the country beyound the forest.
We'll stop at Sibiu and we'll have a walking tour of the Sibiu's Old District. Sibiu is one of the oldest and biggest medieval towns from Transylvania.. The city is reminiscent of old European cities such as Nuremburg and it was founded in 1190 and grew to be the chief city of the Transylvanian Saxons. Highlights: the Big Square, the Small Square, The staircase Tower, the Lier's Bridge, Evanghelic, Catholic and Orthodox Cathedrals, medieval wall and fortifications.
We'll end our fabulous day driving in a village outside of Sibiu. It is a great rural area where old architecture and traditions are well preserved. Enjoy a horse driven wagon tour in the old village and a home-made dinner with traditional products.
Overnight in a local guest house.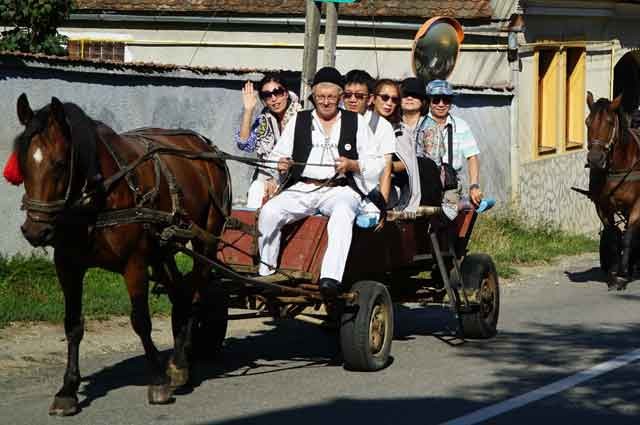 Optional services in Bucharest before / after the tour
Accommodation in Bucharest in a 4 stars hotel, central located – from 70 euros/night/room
Airport transfers – from 10 euros/person
Bucharest – half day guided tour – from 40 euros/person
Bucharest – full day tour – from 50euros/person
Please contact us for supplementary details!
Day 2 SIBIU – HUNEDOARA - ALBA IULIA – CLUJ NAPOCA

We'll continue driving you on the way to Hunedoara. Here we'll visit the biggest medieval castle from Romania – Corvin's (Hunyad) Castle, dating since 15th century. It is a great way to explore the medieval times of knights, noblemen and battles.
Next we'll visit Alba Iulia, a city with long history dating since the ancient times. Here was located one of the biggest Roman cities from Romania and we can still see its ruins. Alba Iulia had a great role in the history of Romania, being known as city of the Union.
Visit the Orthodox Cathedral, Catholic Cathedral, the fortification system built in "Vauban" style, Roman ruins.
We'll end the day in Cluj Napoca. In the evening we'll have a short walking tour of Cluj Napoca, the biggest city in Transylvania. Highlights: St Michael's Cathedral, Union Square, Museum Square, Orthodox Cathedral, National Theatre, Matei Corvin's statue, etc.
Overnight at Napoca Hotel, 4 stars or similar.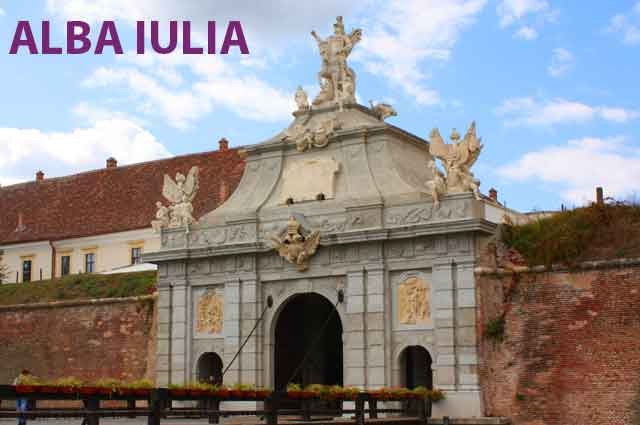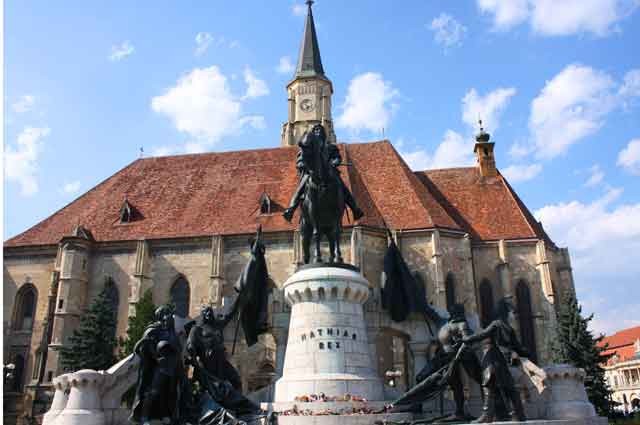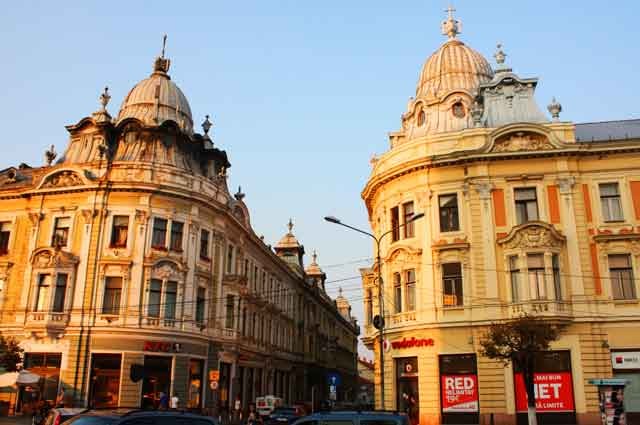 Day 3 CLUJ NAPOCA – MARAMURES
In the morning we'll leave on the way to Maramures, the northern region of Romania, the land of wooden churches and well preserved traditions. First stop at Surdesti wooden church (UNESCO). The Church was built on 1766 on wood structure and due to its tower height of 54 mettres it is considered the tallest old wooden church from Europe.
Next stop at Desesti. Visit the wooden church (UNESCO). Maramures is a land where you can enjoy great countryside landscapes, old villages, local people with their beautiful folk costumes. We'll visit some local craftsmen as a traditional weaver, a wood carver, a water mill, traditional household, etc.
Visit at Barsana Monastery, a good example of monastic life in Maramures and of the wooden buildings architecture.
Optional: we can have a 2 hours detour to visit Sapanta Merry Cemetery, famous for its colourful tombstones with funny poetries.
End the day in Botiza village. Visit a local household to see and understand more about the way of living in these villages. Visit a local sheepyard (depending of the season)
Dinner and overnight in a local pension.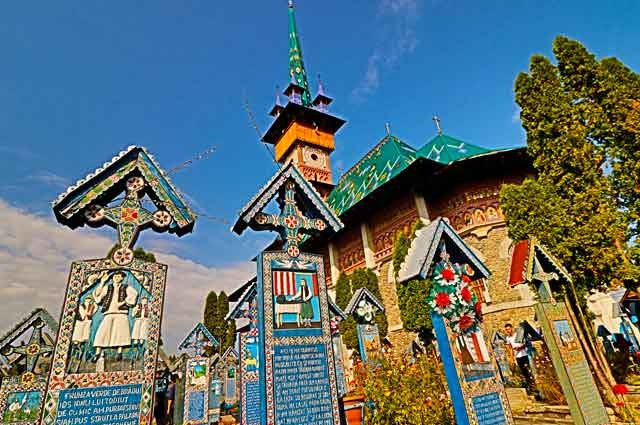 Day 4 MARAMURES – BUCOVINA (GURA HUMORULUI)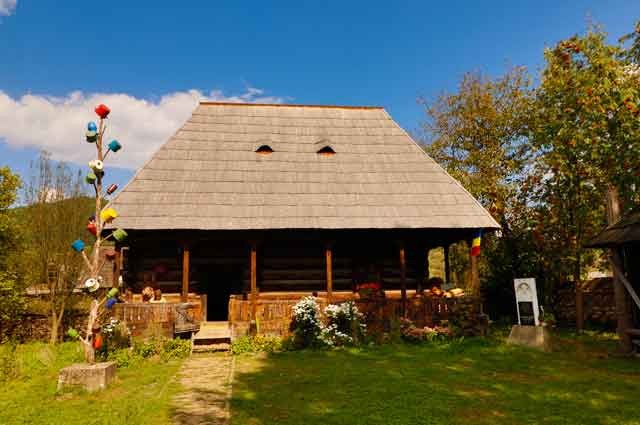 We'll start a new day of our trip with a special visit at Maramures Woman Museum – Dragomiresti. It is a small but very interesting museum where we can see how people from Maramures use to live, to find more about there traditions and customs. At the entrance of the museum is an impressive wooden gate, a good moment for your tour guide to explain you the history and symbols carved on the Maramuresean Gates.
Next we'll cross the Carpathians mountains heading north-east to one of the most famous and popular region of Romania – Bucovina, the land of painted monasteries. It is a very scenic road which offer amazing landscapes.
We'll have a tour of the famous painted monasteries (UNESCO sites). These monasteries was built in 15-16the century and preserve the original interior and exterior freascoes, which is amazing.
Moldovita monastery (UNESCO): dates back from 1532 and is due to the ruling prince Petru Rares
It has the aspect of a fortress, with imposing towers and high, thick walls.
Sucevita monastery : the most magnificent monastic achievement among the painted monasteries in Bucovina , looks as a real fortress, with towers, buttresses and watch roads.
Beside the old and beautiful monasteries we'll also dedicate some time to visit: a painted eggs museum and workshop, Marginea pottery centre, etc
Overnight in a 4 stars hotel located in Gura Humorului / Voronet area.
Day 5 GURA HUMORULUI - SIGHISOARA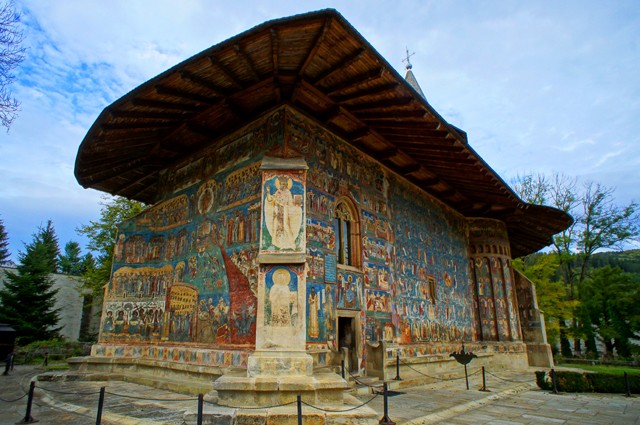 Depart in the morning. First visit at Voronet Monastery, founded in 1488 by Stephen the Great . It is famous for its original frescoes, the blue background colour and the best preserved and the most impressive representation of the Last Judgment.
We'll continue across the Carpathians mountains, back to Transylvania. We'll pass in our way the amazing Bicaz Gorges and Red Lake.
End the day in Sighisoara. Overnight in a 3 stars hotel, located in the Old Town – Hotel Sighisoara or similar.

Day 6 SIGHISOARA – VISCRI - PREJMER – BRASOV
We'll start another day with a walking tour with a visit on the medieval town of Sighisoara (UNESCO), also called "The Pearl of Transylvania". Sighisoara is a wonderful medieval city where you can stil enjoy the medieval atmosphere. The citadel built in 13th century by German (Saxon) settlers it was an important cultural and artist center in medieval period. The old town is considered one of the best preserved medieval towns from Europe and its included in the UNESCO heritages list.
Next we'll drive through an area of old and charming Transylvanian villages which preserve their architecture and customs. Stop at Viscri village,one of the most known and charming villages of Transylvania which preserve the authentic houses and way of living. Viscri fortified church (UNESCO) is the oldest and most important building. We'll visit the church, fortifications and the museum. Enjoy a nice walk on the village streets, take a look to the local hand-made products and experience the rural life of the past times.
Next we'll visit the fortified church from Prejmer (UNESCO), dating since 13th century, a unique sample of defensive and religious structure.
In the afternoon we'll have a walking tour of the medieval center of Brasov. The city of Brasov is one of the oldest in Europe, dating from 1235. During the Middle Ages, Brasov was known as a powerful fortress surrounded by high stone walls and defended by bulwarks, towers and other small fortresses. The buildings and the streets in the historical centre still preserve a medieval note. Concil Square, Black Church, White and Black Towers, Weaver's Bastion and Ecaterina's Gate are the tour highlights.
Overnight in Brasov at Bella Muzica Hotel***or similar, located in the Old Town
Day 7. BRASOV – BRAN – SINAIA – BUCHAREST
In the morning we'll visit famous Bran castle. Built in 14th century it is an impressive medieval gothic castle which had the role to control the access in Transylvania.
Continue to Sinaia and visit the Peles Castle, former summer residence of the kings of Romania.
We'll end our tour at Bucharest, aprox 16.00.hrs.Drop-off at the airport or to a hotel in Bucharest
Customize your private tour in Romania
We are always flexible and willing to design the best tour for you. In case the standard tour doesn't match with your requirements please feel free to ask for changes. We can add or cut days, we can change the itinerary adding sights you want to see, we can modify the accommodations and other services as you want. Send us your requirements for a tailor-made tour. It is your vacation so it has to be as you wish!
Payment and Cancellations Policy for UNESCO Romania Tour

Payments
To secure your booking a deposit of 100 euro/person is required.
The final payment has to be made with minimum 15 days prior the tour start.
The payments can be made online by credit card or by banking transfer
In certain circumstances can be made cash or card on arrival

Cancellations
Special conditions. If an emergency situation occurs (pandemic, disasters, revolution, war, etc) and the Romanian authorities or the authorities from the traveler's country impose restrictions to travel, to enter or leave the country, the cancellation can be made anytime without any penalty.

Standard conditions. If none of the above mentioned situations occur the cancellation policy is:
No penalty apply if the cancellation is made with minimum 15 days prior the tour. Any deposit paid will be refunded in maximum 10 days.
20 % penalty fee apply if the cancellation is made with 5-14 days prior the our departure.
50% penalty fee apply if the cancellation is made with less than 5 days prior the tour start or in case of NO SHOW.
Why to book this tour?
The UNESCO tour in Romania is the best way to experience our beautiful country. In our 7 days long tour we'll visit the most interesting and popular tourist regions and attractions of Romania. We are inviting you to discover Romania along this trip. Our country is probably less known as a travel destination but we have a lot to offer to our visitors.
Along our trip to Romania you'll find more about our history, culture, traditions and cuisine. In Romania you can see and visit unique sights and places which can be seen only here. A symbol of Transylvania are the fortified churches (UNESCO), unique samples of religious and defensive structures. The charming medieval villages and old towns plus the peaceful green hills landscapes make Transylvania a great travel destination for your vacation.
The other regions included in our are Maramures and Bucovina. Here we'll see old wooden churches, craftsmen shops, wonderful rural areas and the amazing painted monasteries. Many of the tour attractions are UNESCO sites.
We'll taste home natural made products, local delicious cuisine and the Romanian drinks.